Home > Data Products > Patient Level Data
PATIENT LEVEL DATA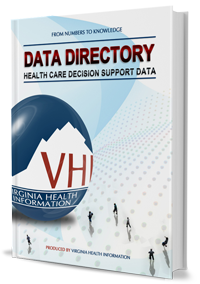 Virginia Health Information (VHI) is the only source for the complete database of all licensed Virginia hospital discharges. VHI's patient level database system includes patient demographic, administrative, clinical, and financial information on every discharge that occurs in Virginia licensed hospitals.
With over 850,000 discharges a year, the VHI patient level database system is the only source for complete information to answer questions on utilization, planning, quality improvement, and other uses by business, hospitals, insurers, physicians and the Commonwealth.
Patient level data is produced for every calendar quarter since the third quarter of 1993 and is available approximately six months after the end of each calendar quarter. Download the Data Directory and the Order Form for PLD and RATs Quarterly Hospital Data in Adobe Acrobat for more information and specific data elements, applications and order forms.
Custom Reports
At one time or another, many people and organizations have very specific needs for health care information. To meet these needs, VHI can develop custom reports to answer their questions. Some examples of information VHI has developed include:
A report on comparing hospital or physician performance for specific types of care
Information on where patients in a geographic region go for general or special care
Elements to Consider
Getting the right information depends on knowing what you want, what is available and how to display it. The following are some suggestions to help you define a custom report that will meet your needs:
What is the Goal of Your Report? Are you trying to identify areas for preventive care? Are you trying to identify the need for a service or variations in outcomes for a condition? Are you looking for specific information in a report or a listing of records that you can filter using different criteria?
What is the Discharge Time Frame? Data comes to VHI for patients discharged in a calendar quarter. VHI can combine any number of quarters into one or more years. Requests are most frequently for the most recent calendar year or most recent twelve-month period. A year's worth of data may be fine for many analyses but too small when low frequency conditions are of interest.
Which Data Constraints do You want to Use?This is how you want the data "sliced and diced". Are you interested in information on a certain diagnosis, procedure, age group, geographic region, etc? Do you want to know how many discharges were involved? How long patients were hospitalized? Where they went upon discharge? If patients were readmitted?
How do You want Your Report Delivered? Do you want a table of cases with or without subtotals or percentages? Observed versus expected values? Do you want a bar chart or graph? Would you rather have the report in a spreadsheet so you can generate other reports?

Next Steps
Once VHI helps you define your report and receive your written request, we will send you a time and cost estimate associated with the report. VHI asks that you sign the request and return it so we can get it scheduled for production without delay. For more information on reports please call or email us.