Home > All Payer Claims Database (APCD)


ALL PAYER CLAIMS DATABASE
What is the Virginia All-Payer Claims Database?

A resource that will provide actionable information to employers, insurers, providers, public health practitioners, health policymakers and consumers to improve access, quality and the cost of healthcare.
The APCD will include paid claims from commercial health insurance companies, the Department of Medical Assistance Services (DMAS), Medicare and other government programs in Virginia.
Information is secure and private. For more information on the Virginia APCD
click here
Why does Virginia need an All-Payer Claims Database?

Currently, most information about health care delivery is limited to a doctor, hospital, or health plan, resulting in a narrow view of health care. The APCD will provide the data and analytic tools for a more complete picture of health care delivery in Virginia.
A system-wide view of healthcare will facilitate data driven, evidence-based improvements in access, quality and cost of healthcare, and to promote and improve public health through the understanding of health care expenditure patterns and operation and performance of the health care system.
Data from the Virginia APCD is Now Available
Data from the Virginia APCD can now be requested through the APCD Advisory Committee.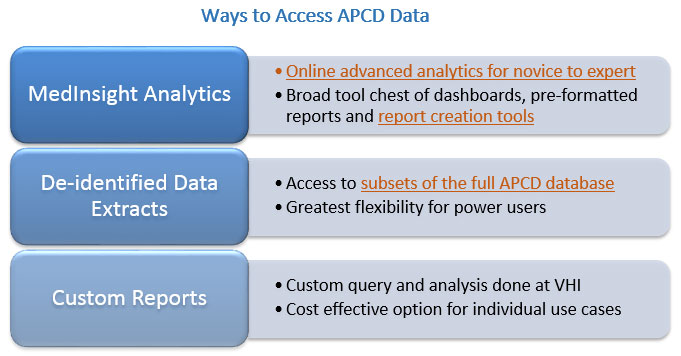 Pricing depends on the type and amount of data requested.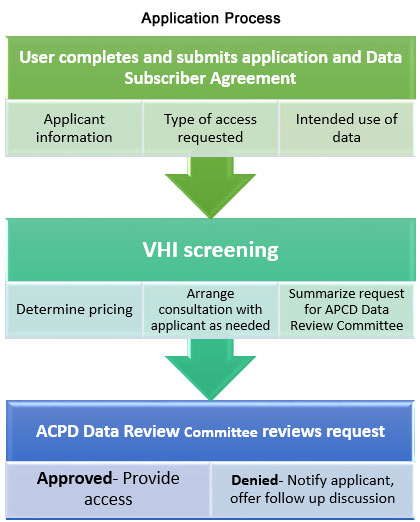 All requests for access require a signed Data Subscriber Agreement (DSA) prior to APCD Advisory Committee review.

The APCD Data Review Committee, a subgroup of the Advisory Committee, meets no more than monthly. All data requests are posted to the VDH website at least a week in advance of the meeting in which the request is reviewed.
Reports that meet the following requirements may only require a shortened DSA/application:
Observation counts greater than 10
Payer and Provider identifiers are removed
All other request require a more extensive application and DSA that must be submitted. A copy of the full DSA can be provided upon request.
Please submit any questions or completed applications to email here. A VHI representative will follow up on your request shortly after.
How is the APCD administered in Virginia?

The Virginia APCD exists under the authority of the Virginia Department of Health (VDH) through
legislation
passed by the Virginia General Assembly in 2012. VDH has contracted with VHI to implement the APCD to be consistent with the law and in collaboration with healthcare stakeholders.
This is a voluntary program with participation committed by Virginia's major health insurance companies. Funding for the first 30 months includes 40% from participating health insurance companies, 40% from the Virginia Hospital and Healthcare Association and 20% from Virginia Health Information (VHI).
How can Self-insured Employers help?

Self-insured employers have an important role to play by having their Third Party Administrators (TPAs) contribute data to the APCD. The more episodes of care represented in the data, the more useful it will be to all users.
View Current Virginia APCD Status and Med-Insight Updates here
Resources:
APCDCouncil.org
a coalition of statewide APCDS and interested parties,
Virginia Articles on APCDs
, August 5, 2013 Richmond Times Dispatch
BENEFITS TO